Pressure
<<demands, stress>>
The use of persuasion or intimidation to make someone do something, resulting in physical or mental distress.
The sense of pressure has many different causes, both internal and external. By responding in God honouring ways good character is formed when under pressure so we need opportunities for its various qualities to be developed, but not so much that we are destroyed (Mt 7:24-27; Jas 1:2-4). God can use pressure positively in our lives.
Paul said, "Rejoice in trials" as pressure through the issues of life develops Godly character in us if we are submissive to Him (Rom 5:2-6). The present circumstance is, if we are yielded to Him, the best tool to shape us for eternity, so don't look for escape routes, instead call and rely on His enablement to find creative ways to survive and be victorious.  Many times, we may be tempted to run from the situation but "Commit your way to the Lord" and let patience have its way (Ps 37:5).  Remain and don't destroy the situation God has arranged as He wants to change something in us. Be fully convinced that all things are working for your good, to make you like Christ and bring Him glory (Rom 8:28,29). What weaknesses of my character are exposed through pressure, and what steps am I taking to correct these issues? When there is the temptation to yield to wrong pressures, we need to be sustained by the word of God (Ps 119:11; Jer 15:16). When under pressure pray, committing yourself to God's love and seek the support of friends.
We need to watch our words, attitudes and reactions when under pressure so we don't lose our perspective and resort to impulsive, irrational decisions, speaking critically, allowing self-pity to take over, or yielding to the temptation to compromise our convictions, by doing things which we normally would not do and will later regret. Pressure is often the source of bad decesions. Satan would have us
When under pressure, what's inside comes out
relieve the pressure of the now, with little regard for the long-term consequences. Don't make excuses if you do fail, rather apologise where necessary and pray for added grace to succeed next time. Do what is right so you can live with a clear conscience, remember the pressure won't always be there but the consequences of bad choices can remain for a long time.
Keeping calm in all situations is sound advice, and derives from being confident that God is in control; commit yourself to Him (Prov 3:5,6; 1 Tim 4:5). Often the pressure of the urgent seeks to override the important issues that should be attended to, so sometimes we just need to stop, sit down, consciously invite Jesus into the situation and look logically at the situation, to refresh our spirits and regain a true perspective. Where possible and appropriately engage the help of others and delegate work to them (Ex 18:17-26, Num 11:10-17). "If you fail under pressure [trouble] your strength is not very great" (Prov 24:10). However, the Bible declares, "No pressure or temptation is greater than what we can handle with Jesus help" (1 Cor 10:13). Don't try to stand against it on your own – enlist His help; by walking obediently in submission to the Master we will emerge victorious in Christ.
Both Jesus and Paul said they were under divine pressure to fulfill their destiny (Lk 12:50; Phil 3:12). Do I have that determination or am I just drifting through life? We must work while we can (Jn 9:4). The early Christians said they were compelled to speak what they had seen and heard, praying for boldness to challenge the spiritual opposition, besides
Pressure reveals the best and worst in us
refusing to be silenced by the threats of man (Act 4:17-31; 1 Cor 9:16). King Saul, under the urgency of pressure acted unwisely and forfeited future blessing while both Herod and Pilate yielded to coercion of the crowd (1 Sam 13:8-14; Mt 14:6-11, 27:24). Satan wants us to take things into our own hands, which will always result in failure.
Peer pressure is a very strong force when brought to bear on interpersonal relationships. Do not allow others to press you to be involved beyond what you are able to do. Those with 'servant hearts', motivated to please people, can be stretched beyond being productive by saying 'Yes' to everyone.
What do I need to do to be spiritually healthy? Keep an eye on the gauges we have been given to help us live balanced and fruitful lives. The spiritual gauge indicates if we are maintaining a satisfying relationship with God. Martha was motivated by serving, while Mary saw the necessity of replenishing her spiritual reservoir (Lk 10:38-42). The physical gauge implies looking after the bodily requirements for food, sleep and exercise. Mentally we should be growing in wisdom and knowledge through positive input and thinking uplifting thoughts (Phil 4:8). The emotional gauge shows our feelings, however it is often the most unpredictable and is the escape valve that lets steam out!
As we are stretched beyond what we can bear on our own, this should cause us to reach out and rely more on His ability (1 Cor 10:13). It demands a conscious realisation that we need to depend on His resources – as a branch can't bear fruit without the flow of sustenance from the plant (Jn 15:4,5). In humility, we should deal with the wrong attitudes, emotions and reactions in a constructive, responsible way, seeking the help to overcome and replace our evil habits and character flaws with desirable godly qualities. Try to see difficulties and pressure from the divine perspective.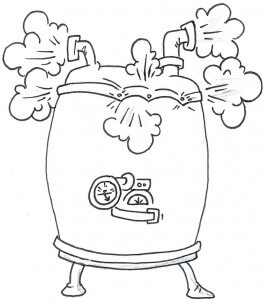 See also: burnout, character, delegate, emotions, force, growth, mental health, peace, peer pressure, perspective, relaxation, self-pity, stress, temptation, test/testing.