Devotions
<<time alone with God>>
Also called a daily quiet time, time alone with God, or communing with God. 
Regardless of how dry and difficult our outward circumstances, our experience of God can remain fresh and vibrant. To maintain spiritual freshness establish a daily time of intimate communion with God to replenish your spiritual resources. Its purpose is for personal enrichment, spending time alone with God and His Word, discerning His ways, and praying. This prepares you for the challenges of the day so ideally the morning is preferred. This time of dedicated connecting to the source of our spiritual life should be guarded and be a part of daily life (Jn 15:4,5).
This is not so much a time of study but an opening one's self up to God in close fellowship where your spirit communes with His in honesty and without pretense – regardless of the spiritual input into your life in the corporate church setting, it is essential to have this one-on-one interaction. The heart's cry is, "Speak, Lord, for your servant is listening" (1 Sam 3:9). It is a time for allowing Him unhindered access
Do I daily spend time alone with God?
to your inner being, to speak words of encouragement, bring conviction where issues need to be addressed, perspective is regained, direction becomes clearer and insight given into His immense love.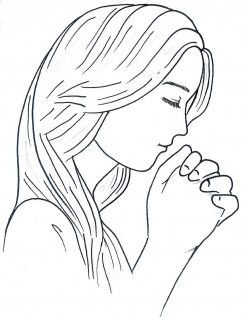 As much as possible withdraw from the distractions of life so you can give yourself more fully to this time of communion with God. It is recorded that "Jesus often withdrew to lonely places and prayed" receiving from and speaking to His Father, besides the times of specific prayer when faced with people's needs and prior to His crucifixion (Mk 1:35, 6:46; Lk 5:16; Heb 5:7). "Those that wait on [or hope in] the Lord will renew their strength" (Isa 40:31).
As you begin to read the Bible pray, "Open my eyes that I may see wonderful things in your law" (Ps 119:18). Have sensitive spiritual ears to hear from God, who wants to communicate with us. This will come in the form of impressions within.
Find the pathway and pattern of Bible reading and prayer that works best for you as there is not a 'one approach fits everybody' way. It is not the length of time spent rather the quality of intimacy with God, as you open to the Holy Spirit's voice, gain insight as you read and meditate in the Scriptures with the emphasis on the practical outworking in your life, "Not forgetting…but doing it" (Mt 7:24-27; Jas 1:22-25).  One method uses the anagram 'SOAP' – a
portion of Scripture is read, significant points are Observed, personal Application noted, followed by Prayer for the outworking of this in one's life. Spending time in undivided relationship with God is not to amass information but for transformation of our lives.
After spending time with God the face of Moses shone while something about Peter and John indicated that "these men had been with Jesus" (Ex 34:29; Act 4:13). While there are numerous good, helpful publications that bring fresh revelations of spiritual insight and teaching our walk with God should also include us digging for treasure too, allowing the Holy Spirit to reveal to us our own gems, not just what someone else has dug up! As an aid to retaining what has been gleaned, it is beneficial to write down the challenges of the Holy Spirit. This recording is known as journaling.
Christian meditation (as opposed to Eastern mediation) is thinking over the Word of God throughout the day to gain more value from it, like a cow re-chewing its cud to extract further nourishment from it.
Family devotions is 'church' within the home, where the family is brought closer to God by intentionally impressing His Word and ways upon your children (Deut 6:6,7). Bible reading times should be interesting and bring the relevance of the Bible into the world of the children. Ask applicable questions that can't be answered with a 'yes' or 'no' but instead are focused to draw them out – 'Not what did you get from the story' but 'what does it take for you to stand up for God at school?' It should not be just a time where the children hear the parents talking about God to them but also talking to God about them in prayer. Look for teachable moments and object lessons to reinforce the Bible truths.
A devotional is a short talk or article based on a Bible text or topic with a challenging thought or call to inspire the hearers on in the Christian walk.
See also: application, Bible, Bible study, devotion, devout, hearing God's voice, journaling, meditate/meditation, prayer, quiet time, time with God, waiting on God.