Bible Study
This is not just causal reading, but rather concentrated 'open hearted' learning with the motive to apply the teaching of Scripture enabling you to live God's way in your daily walk (2 Tim 2:15).  In-depth exploration of the truths of the Bible can be either alone during your own personal devotions or in a small group with others.   Writing down (journaling) is a worthwhile exercise to retain the information but Bible knowledge is of little practical value unless it helps us to be better believers. Besides delving into the Bible for ourselves, there are a multitude of resources that enable the reader to be challenged and "grow in the grace and knowledge of our Lord and Saviour Jesus Christ" (2 Pet 3:18). The early church believers "devoted themselves to the apostle's teaching…" which they discussed in their homes (Act 2:42, 5:42; 10:33-44, 16:32,40, 20:20).
If a person is not solidly grounded in the Bible's teaching they can easily be diverted by deception from the paths of righteousness. Knowing the truth, together with discipleship and accountability will safeguard from being led astray (1 Jn 3:7). Some early church believers were commended for their diligence in examining the Scriptures to ensure what they had been taught was Biblically true (Act 17:11).
The purpose of Bible study
We can receive spiritual input from a variety of reputable sources, yet our own Bible study is paramount for being transformed into His likeness as the Holy Spirit communicates directly with us (Rom 8:29; 2 Cor 3:18; Gal 4:19). God can't be separated from His Word, and while its values are beneficial for even the unsaved to live by, they are intended to bring humanity into relationship with God Himself and to be effective ambassadors for His Kingdom through His transforming power (Jn 1:1,14).
The goal of Bible study should not be to increase our intellectual knowledge but to grow in our personal relationship with God with the resulting lifestyle transformation. There are three basic
Do I outwork what I learn?
questions to ask: What does it say? What does it say to me? What am I going to do about it?  We can't apply it till we know it. Allow it to change each aspect of your life: thoughts, attitudes, values, words and actions for it makes holy those who acknowledge and respond appropriately (Ps 119:9,11; Jn 17:8,14,17).  Ideally it's truths should be so embedded in our hearts and minds that they are the controlling influence in the decisions we make when coupled with the desire to go His way (Deut 6:6,7; Ps 25:4,5, 32:8, 119:130; Rom 12:1,2).
The Bible should be our ultimate guide, over-riding human authority, personal opinions and church tradition. Its truths, activated in our hearts by the Holy Spirit, are powerful and life-changing, transforming us from worldliness to true spirituality (Jn 14:26, 16:13). Jesus said, "If you follow my teaching you are really my disciples. Then you will know the truth, and the truth will set you free...free indeed" (Jn 8:31,32,36). Jesus Himself is 'the truth' as encapsulated in the Bible (Jn 14:6).
As it is the 'blueprint for life' it is to our utmost advantage to be well acquainted with its teachings and applying them is vital, for "Blessed are those who hear the Word of God and obey it" while ignoring its teachings results in being cursed (Deut 28:1-68; Josh 1:8; Ps 1:1-6; Lk 11:28). The warning is, "Don't merely listen to the Word...Do what it says" for those who do not live by His teachings will be destroyed.
James said view the Word as a mirror – look into it and correct what you see is wrong (Mt 7:24-27; Jn 12:47,48). Don't be like the religious teachers of Jesus day, who although they knew the OT teachings didn't allow its truths to change them inwardly, and consequently failed to recognize and connect to Christ.
Its truths are life changing and powerful if applied
Preaching about [the message of] the Bible is important but living it out with integrity is even more important as we are the only Bible many non-believers will read (2 Cor 3:2). Are they receiving a true portrayal of The God of the Bible – it must shape all our actions and attitudes.
While it is good to study the Scriptures, eternal life is found in the person they portray – Jesus Christ (Jn 5:39). This is why a growing relationship with Him is the key to Christianity, with that knowledge outworked in our lives so we live worthy of the Lord (Col 1:9-12). Although meeting with others is beneficial and desirable, our greatest spiritual transactions and heart dealings are between the Lord and us.
A common method of Bible study is using the SOAP method – read the Scriptures (write down a couple of verses that impress you – they may challenge your faith, help to see God in a new light or call for repentance).  Observe (reflect on what you need to do, now that you know). Application (record how you plan to implement this). Prayer (being honest with God, thank Him for showing you this and asking for His help to change).
Another approach is the ABCD method. Give the passage of Scripture you are reading A title. What is the Best verse? What is God Communicating or saying?  What Decision do I need to make?
Journaling is not an end in itself, rather an aid to living out the truths gleaned. "Do not merely listen to the Word…Do what it says. Anyone who listens to the Word but does not do what it says is as a man, who looks at his face in a mirror and, after looking at himself, goes away and immediately forgets what he looks like. But the man who looks intently into the perfect law that gives freedom, and continues to do this, not forgetting what he has heard, but doing it – he will be blessed in what he does" (Jas 1:22-25).
Practical guidelines
1/. Search out a suitable translation to meet your needs e.g. simple English or with study questions etc.
2/. Read it regularly, and plan to cover it all (not just a few favourite selections) to have 'a balanced diet' of spiritual food.
3/. Memorize portions of it is so that your life will become disciplined and governed by it, enabling
you to say, "I have stored your Word in my heart that I might not sin against you" (Ps 119:9,11).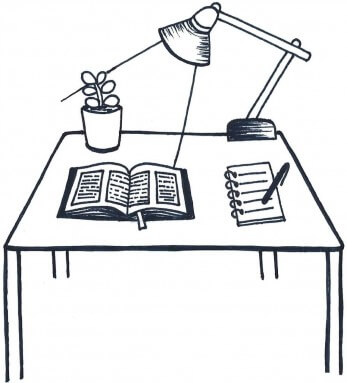 4/. When Jesus was tempted, He used the Word of God as the standard to combat Satan's assaults not natural reasoning (Mt 4:1-11). Follow His example to counter Satan's assaults and misconstructions.
5/. Write down (journaling) your insights gleaned from the study of Scripture as this also helps consolidate what He is saying to you.
6/. Look for, or borrow, helpful commentaries, and maybe even a Bible atlas, to read alongside Scriptural passages.
7/. Join a Bible study group for mutual encouragement. You will be enriched by sharing the insights of others.
8/. When the Bible is silent on various issues, we are to be guided by its principles but have the liberty to follow our conscience. Be open to the input of others and mindful of the influence your example will have (Rom 14:13-23; 1 Cor 10:23-11:1).
All teaching received must be tested against Scripture to ensure it is not at variance with biblical principles and the nature of God as "wolves in sheep's clothing" misrepresent the Bible's message for their own advantage instead of teaching "what is in agreement with sound doctrine" (Mt 7:15; Act 17:11; Tit 1:11-14, 2:1). Similarly, any supposedly 'God told me…' instruction will not contradict the nature and will of God as indicated by the principles and teachings of the Bible.
When God specifies a certain practice anything different, or in addition to what He specified, is wrong so do not interpret the Bible to fit your own selfish and sinful ways for the Bible gives serious warnings against distorting its teachings (Deut 4:2, 12:32; Rev 22:18,19). Ask the Holy Spirit to "Open my eyes that I may see wonderful things in your Word" as "He guides you into all truth" (Ps 119:18; Jn 16:13).
See also: Bible, deception, devotions, journaling, study.