Comfort Zone
<<familiar situation, being at ease>>
We all need a comfort zone, a place where we can relax and be ourselves. However, we will never achieve our full potential if we do not step outside our comfort zone. Our abilities are only developed as we extend out beyond our present levels of security and comfort.  Like a toddler, we need to face the challenges of embracing the world for ourselves and for God. Life doesn't afford us the opportunity of staying where we are – we either grow or wither. Extend your present boundaries by facing the challenges with optimism and faith in your heart.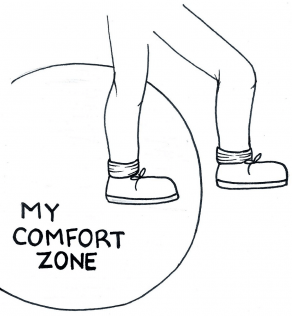 Our self-confidence is under threat when we go beyond what we are comfortable with. Our performance will improve as we get used to the new expanded opportunities. However, the 'goal posts' will continually be pushed further as we approach them giving further opportunity to grow – life is a continual learning experience. If we knew how far we would be stretched, we might never get started yet like the donkey chasing the carrot it is surprising how far we can travel. Thus our capabilities and usefulness increase as we become proficient in more areas that were once outside our comfort zone. We will never become what God wants us to be, or all we could be, while we resist chnage and insist on staying where we are.
When outside the safety of our comfort zone we become conscious of how vulnerable we are to the many uncertainties, to possible failure, and aware of how much we need others, but more importantly we are given the opportunity to rely more fully on the Spirit of God. It demands leaving the security of the 'known' and our fragile
self-dependency and moving by faith into the unknown as we trust in the Lord but He has promised, "Never to leave
us" (Heb 13:5).
Fearful anticipation of the looming challenge can almost cripple us mentally. Don't excuse your way out of doing
your divine assignment by listening to negative inner thoughts. Instead utilize that energy to focus on Jesus rather than the circumstances. Combat any intimidating fear with Scriptures such as; "What I am commanding today is not
too difficult for you or beyond your reach…Have I not commanded you? Be strong and courageous. Do not be terrified; do not be discouraged, for the Lord your God will be with you wherever you go…I am your God. I will strengthen, help and uphold you with my righteous right hand…" (Deut 30:11; Josh 1:9; Isa 41:10). Inadequacy in our own ability should drive us into being dependent on God, rather than making excuses. In faith consider what is possible when you team up with God rather than reasoning why you can't do something. Remind yourself of the outcome when the disciples left the familiarity of their fishing boats and other means of employment to follow Jesus. "I can do all things (that He wants me to do) through Him who gives me strength" (Phil 4:13). "You are my refuge and my shield; I have put my hope in your Word…Sustain me according to your promise, and I shall live; do not let my hopes be dashed" (Ps 119:114,116).
Character growth takes place when we are outside our comfort zone. God
is continually stretching us beyond what we think we can handle so we will rely on Him; moving us on from our ability into His ability, from self-reliance to dependence on Him. Like a rubber band, our potential is realised only
How else will the eagle learn to fly unless it leaves the comfort of the nest? 
when extended. The only way to expand is to venture out beyond where you are now by trying what is new to you. Continually push the boundaries. Taking regular smaller steps to achieve is easier than taking massive jumps occasionally. Having a mentor who can journey with you through these unknown and untried paths is helpful.
Volunteer and tackle new challenges in life – see life as a great adventure that you can face because  the Holy Spirit within you is greater than Satan and his followers (1 Jn 4:4). God has plans to take us to new levels of maturity in Him and He is tenderly and capably watching over us (Deut 32:10-12).
As we get older, because of fear, failure and the opinions of others, we are prone to recoil from what can develop us further. Our focus changes from exploring our potential to self-preservation but by faith we can claim His promises. "Fear not, for I have redeemed you; I have called you by name: you are mine. When you pass through the waters, I will be with you…When you walk through the fire you will not be burned; the flames will not set you ablaze" (Isa 43:1,2). Unless we are being stretched most likely, we are shrinking. Who wants to live with the regret of not attempting to bring our potential into reality?
We need to encourage ourselves when we attempt new challenges, and giving encouragement to others is one of the greatest ways we can bless them. You never truly know what things you can accomplish until you develop the courage to try. You will end up going further than you ever thought
Step out in obedience
possible to go. The desire to serve the Master faithfully will also embolden you, knowing that "when I am weak then I am strong" (2 Cor 12:10). Telling others about Christ can be daunting, but eternity is more important than my fears. Confess your failures and self-doubt to God, take comfort from Him and press on to try again, rather than retreating into negative self-talk such as 'I can't do it' 'I won't try again'. Read about the heroes of the faith in Hebrews 11.
See also: boundaries, challenge, change, character, comfort, confidence, courage, dependence, encouragement, excuse, faith, fear, growth, limitations, potential, regret, risk, self-confidence.