Binding and Loosing
<<powerful spiritual actions>>
To bind is to declare something not to operate because it is improper, unlawful or not in agreement with Scripture. To loose is to declare freedom to what is in agreement with Scripture and currently is bound or hindered.
Jesus speaking to His disciples said, "I will give you the keys of the kingdom of heaven, whatever you bind on earth will be bound in heaven, and whatever you loose on earth will be loosed in heaven" (Mt 16:19, 18:18). This is also expressed as, "Whatever you forbid, declare to be improper and unlawful on earth will have already been bound in heaven, and
Do I use this authority tool to stop evil and bring about His will?
whatever you permit and declare lawful on earth will have already been loosed in heaven." After seeking and receiving direction from the Holy Spirit the proclamation of binding and loosing is, in effect, carrying out the will of God in the matter. In the natural, keys open or lock doors, gates or other devices and represent power, control and authority to transact business.  Jesus came to set at liberty those bound – mentally, morally, spiritually, socially and physically, besides binding up their broken hearts (Isa 61:1; Lk 4:18,19). Jesus was investing in His disciples the authority to do what He Himself did (Jn 14:12).  Under divine influence and guidance, what they determined and agreed upon as being God's choice, purposes and will would have the sanction of God.  What was done in obedience to His word on earth would be ratified by heaven. Binding and loosing is a powerful force when used under God's control in intercession and is to be directed towards the moral and spiritual influence, not towards the people who are merely just outworking the principles.  This spiritual resource or weapon is not to be misused.
There is no record of Jesus binding an evil spirit. He rebuked and drove them out. Binding is a temporary restraint while deliverance deals with the root. In the end times, Satan will be restrained for a thousand years prior to suffering forever in the lake of fire (Rev 20:2,10).
Jesus loosed us from the power and penalty of sin, which is eternal separation from God (Rom 6:23; 1 Jn 3:8). "It is for freedom that Christ has set you free" (Gal 5:1). It is our responsibility to maintain that liberty from the power and pull of sin, through self-discipline of denying the old life and obedience to the Holy Spirit (Lk 9:23; Tit 2:11,12).
Before sinning Adam and Eve were called to reign and have authority in the natural realm; as Christians we are called to have authority in the spiritual realm too (Gen 1:26,28; Rom 5:17). It is our task as Christ's representatives to use His name to loose people from all sorts of destructive habits and ways of thinking with which Satan binds them (Mk 16:17,18; Lk 13:16; Jn 10:10, 11:44). Jesus illustrated this concept by stating it is only possible to rob a strong man's house after they are immobilized by first binding them up, then his goods can be plundered (Mt 12:29).
After Jesus had raised Lazarus from the dead He gave the instruction "loose him and let him go" (Jn 11:44). Lazarus was securely wrapped in grave clothes which he was incapable of undoing himself and seriously hindered any movement.  In a similar way when a person becomes a Christian, new life comes into them yet there are areas of the soul that need liberation, from the entanglement and contamination of the world system.  This often involves other mature and loving believers ministering to them, under the Holy Spirit's control to see them set free from anything that would prevent them from knowing and experiencing freedom and liberty in Christ. This might include deliverance from demonic spirits, breaking of soul ties, counseling in lifestyle habits with ongoing mentoring and accountability. God's desire for us is to be conformed to the image of Christ – the world had no control over Him (Jn 14:30; Rom 8:29).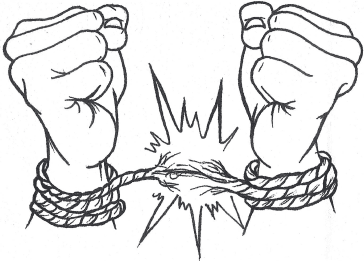 Even mature Christians should be coming into increased freedom in Christ, leaving behind the traits of sin and shackles that once enslaved. Inner healing is the ministry that brings release to areas of the personality that have been wounded and closed off. Baptism is whereby we signal to the spirit realm and others that we are living a new life in Christ, with sin not having dominion over us, we are no longer slaves to what once bound us (Rom 6:4,6,16,17,22).
Bind evil forces from causing havoc and loose or declare the will of God to be done in a certain situation, be it physical, emotional, spiritual or financial, through faith by speaking release in the name of Jesus. There is power in words spoken out that reflect the Lord's mind on that matter. Attention must be given to the entrance points that have opened people up to evil spiritual forces that affect them.
We should not be under peer pressure to conform or be dictated to by wrong internal desires, rather living in close relationship with the Holy Spirit who guides and bring release (2 Cor 3:17). This freedom is not so we can indulge the flesh but rather glorify Him (Gal 5:13). God is not controlled by whatever is decreed by us mortals, however if it is in accordance with the purposes of Christ it will be done.
In the OT God's people were to literally bind a few key commands to their bodies (Deut 6:8, 11:18). David expressed this as "Your Word I have hidden in my heart so I will not sin against you" (Ps 119:11). We too, should study and memorise the Word of God so it is fixed in our hearts and minds to guide us in our daily walk.
See also: authority, bondage, bound, breakthrough, captivity, deliverance, freedom, habits, inner healing, Jesus/name of, release, spiritual warfare, victory, witches/witchcraft, words.