Keys
<<representative of authority>>
In the natural world a key is a small object with a great potential to lock or unlock, to prevent or permit access to resources that are otherwise unobtainable by being locked up. Thus, keys symbolically represent authority.
Jesus said He would give the keys to the Kingdom to His church, "Whatever is bound on earth will be bound in heaven, and whatever is loosed on earth will be loosed in heaven" (Mt 16:19). It is our responsibility as Christians, both collectively as churches and individually, to bind evil spiritual forces, yet release the Holy Spirit's power into situations. Jesus gives us authority to use His name to bring about His will and purposes (Mk 16:15-18). We are not to misuse this delegated authority and power to further our own selfish ends by trying to enforce and control what is not His will; rather use it properly, doing what He would if He was in our situation. The gifts of the Spirit are powerful keys to bring release to people and further the Kingdom of God (1 Cor 12:7-10). Fasting and genuine prayer also have far greater power than we can comprehend.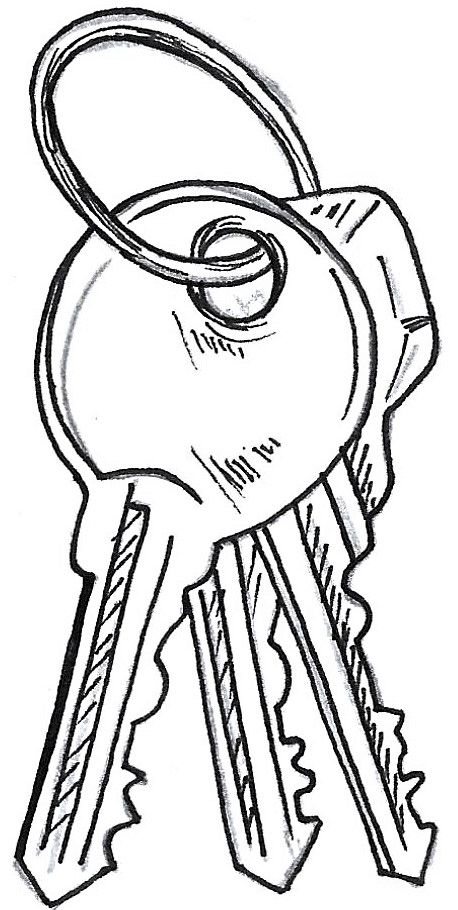 Jesus holds the keys to death and hell (Rev 1:17,18, 20:14). It is through Him alone that we can be free of Satan's control and eternal damnation. Am I walking in the freedom and victory that He died to gain? (Gal 5:1; 1 Jn 3:8). "Whatever He opens, no-one
The key to living a blessed life is obedience through hearing and doing His will
can shut; and what He shuts no-one can open" (Rev 3:7). Try to grasp a clear understanding and be submissive to the divine agenda and purposes, so you are not fighting against God (Act 5:38,39).
When Jesus said to the religious leaders of His day, "You have taken away the key to knowledge" he inferred that, by their erroneous teachings, self-made rules and the poor example of their lives, they were hiding the truth which could unlock people's understanding so they could enter into relationship with God (Lk 11:52).
Keys can also refer to potential solutions, tips, explanations, techniques, helpful guidelines and aids to understanding and knowledge to help us get through everyday life. Often they are itemised pointers or steps which will be beneficial if followed.
See also: authority, binding and loosing, fasting, gates, Jesus/name of, position in Christ, prayer.