Confusion
<<unclear, disorder>>
Satan in the Garden of Eden asked, "Did God really say…?" (Gen 3:1). He still tries to confuse people about the truth, having them ask, "What is truth?" 
(Jn 18:38). Jesus said He is truth, and as we know Him we will come into the light and be set free (Jn 8:32, 14:6; 1 Jn 1:5-7).
There is a constant struggle between our old and new natures that causes inner confusion (Rom 7:15-25).  Was this of God or was it the old life?  Mental conflict and instability holds many people in bondage. Continually ask the Holy Spirit to help you live for Christ, and renew your mind (Rom
Starting with God, know your unchangeable reference points
12:2). Where selfish ambition is, confusion reigns (Jas 3:16).  Confusion nullifies the effects of God's Word upon our hearts by destroying faith and peace besides making us vunerable to deception.  Study God's Word to know what He requires so you will not be swayed back and forth like a wave of the sea by the different viewpoints (Jas 1:6,7).
When confused, torn between options, bewildered with life or uncertain which way to go, don't react in frustration and throw it all away, walking out on life (Heb 10:35).  Satan pressurizes for hasty and rash decisions, which later will be regretted and can't be changed. Search for answers to clear up confusion so you know the truth – not warped human opinion. Hold steady, at some stage the way will become clear. Reiterate your reference points, the basics of your faith: being 'confident God has a good plan for me, He is my loving heavenly Father, my sins are forgiven, He will guide me, when this life is over I'll be with Him in glory'. By thinking about these and other unchangeable truths, they will give stability, perspective and hope. Pray much, committing yourself and your way to the Lord, seek guidance from the Word and maybe advice from other mature Christians (Ps 37:5; Prov 20:18). Alter direction only when you have God's peace in your heart and believe it is His way for you. "If the trumpet sounds with an unclear call who will prepare for war", means don't act till you know for sure (1 Cor 14:8). Don't act independently of Him. He will teach us His ways, it's our responsibility to hear clearly and then respond correctly (Mt 6:24,25; Jn 10:4,27).  "Commit your way to the Lord and He will direct your path" (Prov 3:5,6).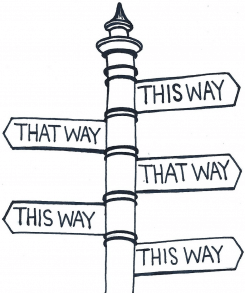 One of the OT curses for disobedience is confusion (Deut 28:20). As believers, although we might not know all the answers we should have clarity of vision, a singleness of purpose in fulfilling our calling, being focused on His goal of getting people to heaven coupled with stability in Christ knowing of a certainty that He has it all under control. This will enable us to live in peace amidst conflict, confusion and problems without constantly changing course. David's advice to his son was, "Observe what the Lord your God requires: walk in His ways, and keep His decrees and commands, His laws and requirements…so that you may prosper in all you do and wherever you go" (1 Kgs 2:3). Later Solomon cried to God, "Give your servant a discerning heart…to distinguish between right and wrong"
(1 Kgs 3:9).
It is essential to hear the voice of God, so pray, "Speak, Lord, for your servant is listening…Teach me your way, O Lord, and I will walk in your truth" (1 Sam 3:10; Ps 86:11). Be sensitive to the Holy Spirit saying, "This is the way; walk in it…" (Isa 30:21). "He will guide you into all truth" (Jn 16:13).
God allows times of uncertainty to test what is in our hearts and for us to respond in trust and faith. Similarly, when we believe we heard God's voice and poured ourselves into a venture, only to have it collapse, in the natural we can be hurt and disillusioned, yet if we have maintained a right attitude, we will come out better people. Humbly pray for insight so we "understand the times and know what to do for it is not in man to direct his (own) steps" (1 Chr 12:32; Jer 10:23). Be in continual reliance on divine providence and guidance especially when human logic and planning are clouded as confusion undermines effectiveness. All our communication should be clear and decisive, not ambiguous.
Gender confusion is the distress a person experiences when they consider they are physically the opposite sex to what they internally sense they are.
See also: common-sense, communication, counsel/counselling, guidance (divine), hearing God's voice, peace, questions, truth, uncertain, why, wisdom.