Broken-hearted
<<miserable, grief-stricken>>
Intense grief caused by shattered dreams, the ending of a close relationship, death of a loved one or major personal tragedy. Whatever the reason keep your tear-filled eyes on Jesus.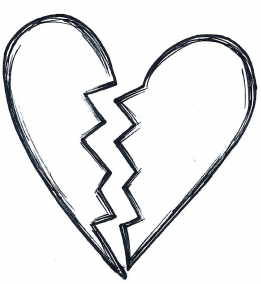 There is a legitimate time of grief after which you should re-engage with life making the necessary adjustments. Although there will be times of reflection don't let self-pity cause you to develop a wounded spirit because life isn't fair – if it was we would be going to a lost eternity because of our sin.
We have a choice, to grow in Godly character or be destroyed by the events in life through bitterness As Christians, we are not exempt from painful and potentially destructive happenings that He in His wisdom and love has
permitted. Do I cling to Him closer or turn from Him when my heart is broken? Our reaction rather, than what has happened to us, is the important factor.
Does this reflect how I feel, "I am feeble and utterly crushed; I groan in anguish of heart" (Ps 38:8)?
The good news is Jesus came to "bind up the broken-hearted…to give the oil of gladness instead of mourning, and a garment of praise instead of a spirit of despair" (Isa 61:1,3; Lk 4:18). Thank Him for this ministry to you. There is
release as you praise Him – it moves the focus from you to Him. Because "The Lord is close to the broken-hearted…He heals the broken-hearted and binds up their wounds" (Ps 34:18, 147:3). Through such times of suffering, we can enter into His suffering.
A man's happy spirit is like medicine in times of physical ailments but grief crushes the spirit within (Prov 17:22, 18:14). Scars of the past can inhibit and trap us, holding us in bondage so we are ineffective for Him. Release your inner pain by bringing the shattered pieces to Him, allowing Him to
Give God all the pieces
create a serenity of spirit, a depth of character, and a genuine trust that can't be reached by any other path. The Bible's promise is, "Cast your cares on the Lord and He will sustain you" (Ps 55:22; 1 Pet 5:7). He wants to repair and restore our damaged lives so we will have a powerful testimony of how He brought us through.
It is essential to move past the 'why me' to 'what' can I learn from this? Maturity is progressing from the pain to the growth stage, from self-pity and the possibility of offense to understanding the compassion and sovereignty of the Lord
Do I weep over what causes God grief or just over my shattered, petty self-interests?
who will not withhold anything good from His children, who causes all things to work for the good of those who love Him (Ps 84:11; Mt 7:7-11; Rom 8:28)
As with any other time in life, be honest and real with God acknowledging your total despair of spirit – after all, He already knows!
Christ has said He will never leave us (Heb 13:5). He wants to comfort and show His power towards those who are fully committed to Him, so we in turn can help others (2 Chr 16:9; 2 Cor 1:4).
God also is brokenhearted. "The Lord was grieved that He had made man on the earth, and His heart was filled with pain" (Gen 6:6). It causes Him anguish of heart when many of His wayward rebellious creations refuse His love, and continue recklessly on to a lost eternity (Mt 23:37; 2 Pet 3:9).
See also: bitterness, broken/brokenness, disappointments, dreams, grief, heart, hurts, not being ministered to, self-pity, sorrow, suffering, why, wounded.