Baptism
<<immersion>>
1/. Baptism of the Holy Spirit
The baptizing ministry of the Holy Spirit has been a major point of division between Bible-believing Christians. Some consider it occurs the moment a person is saved, others see it as a second work of grace, while still others believe it is an ongoing experience. The Bible teaches, the baptism of the Holy Spirit occurs at all genuine salvations, whereby we come into union with Christ and other believers in the body of Christ, with divine power given so we can witness and live the Christian life (Rom 8:16; 1 Cor 3:16, 6:19). The baptism in the Holy Spirit identifies us spiritually with the death, burial and resurrection of Christ and establishes the basis for realizing our separation from the power of indwelling sin and our walk in newness of life (Rom 6:1-10; 2 Cor 5:17; Col 2:12).
John the Baptist predicted this and Jesus, speaking about the day of Pentecost, said, "In a few days you will be baptized with the Holy Spirit" (Mk 1:8; Act 1:5, 2:1-4). This marked the first time His followers were permanently indwelt by the Holy Spirit – prior to this the Holy Spirit had only come upon selective people for specific tasks (1 Sam 16:12,13; Jdg 6:34).
We are each immersed in the Holy Spirit at salvation, as "God sent the Spirit of His Son into our hearts…If anyone does not have the Spirit of Christ [Holy Spirit] they do not belong to Christ" (Jn 14:17,23; Rom 8:9-11; Gal 4:6). This is the experience of all who are truly Christians, and although only being a
Spirit baptism is coming into relationship with Christ at salvation
one-time event, it should be typified by an ongoing lifestyle of being 'full to the brim' through 'walking in the Spirit'. Repeated fillings or replenishment by being overwhelmed will follow times of surrender (after struggles with the Lord over issues He convicts us about) or we are conscious we are 'running dry'.
When Jesus was baptized in water, the Holy Spirit came on Him in a greater measure than previously, and this divine impartation of power from God equipped Him for His earthly ministry (Lk 3:21,22, 4:1,18,19; Act 10:38). This should be our testimony too, "baptized by one Spirit into one body", empowered to do His will (Zech 4:6; Act 1:8; 1 Cor 12:12,13; Gal 3:27).
Subsequent to the Spirit taking up residence in us (at salvation), the Bible's message is, "Be filled with the Spirit" so "hunger and thirst" for more of the Holy Spirit whom the Father will give to those who ask (Mt 5:6; Lk 11:13; Jn 7:37-39; Act 5:32; Eph 5:18). Living in a sin-saturated world the divne anointing disapates so we need ongoing encounters to replenish what has leaked from us. Do not fall into the trap of thinking you have received all that God has to offer you, for there is always more of you that He desires to take possession of, and greater anointing available for our lives to touch others. The Spirit does not force Himself into our situations but waits to be invited to take more control of us; it's a case of "He must increase and I decrease" (Jn 3:30).
Do not be concerned over terminologies as various terms are used interchangeably in Christendom such as being Spirit-filled, being baptized in the Holy Spirit or receiving the so-called second blessing. Regardless of the views we hold they must be held with
Don't settle for less than is available
humility and graciousness towards those who believe differently. Whatever our understanding, we will all agree we need more of His supernatural power and ability for service and ministry in the Kingdom of God, aware that it's our responsibility to be spiritually clean (free of known sin) and desirous to receive this divine gift that the Father and Jesus want to give us, in order to represent them in greater measure (Mt 3:11,12; Mk 1:8; Lk 3:16; Jn 1:33). Thus it is not so much debating the controversial topic of baptism in the Spirit as being sensitive, yielded and obedient to Him, so rather than focusing on the event or experience focus on Jesus and give yourself fully to Him, for we only have His life in us in the proportion that we allow the Holy Spirit to work in us. The life Jesus came to give us is administered by the Holy Spirit. The question is, do I have ongoing encounters with the Holy Spirit that are biblically warranted and actually result in a transformed life? Do not deny Him the right to possess (with increasing measure) what Jesus died to purchase – us.
See also: anointed, capacity, controversial issues, Holy Spirit, manifestations, Pentecost, Spirit-filled.


2/. Water baptism for believers 
John the Baptist, who prepared the way for Jesus' public ministry, called people to repent and, on confession of their sins, he baptized them (fully immersed) in water.  He emphasized that baptism was an outward sign or fruit of an inner change of heart (Mt 3:8; Mk 1:4). This baptism of repentance was a forerunner to believers' baptism (Act 19:4,5). John baptized Jesus, not because He was repenting of sin, but rather to 'fulfill all righteousness' and set an example that each committed follower of Christ should choose to obey (Mt 3:13-16; Lk 3:21). In keeping with the OT practice for those coming into the priestly office, Jesus was "washed with water" as He was ready to begin His ministry of becoming the High Priest of our salvation (Ex 29:4; Heb 4:14, 6:20).
Being baptized in water does not save a person, as salvation is only by repenting of sin and professing faith in Christ, yet it is an important step in the Christian walk (Jn 3:16,18, 5:24, 12:44, 20:31; Act 2:20, 16:31-34).  It is simply an outward sign of the inner change of allegiance, from Satan's
Water baptism indicates our dying to the old life and rising to a new one
Kingdom to God's and deliverance from Satan's territory. This symbolism of being buried then raised in newness of life with Christ, declares the old life has no more dominion over me for "I have been crucified with Christ, and I no longer live, but Christ lives in me" with numerous opportunities in life when we can to make real our confession (Rom 6:1-4,6,11-13; Gal 2:20; Col 2:12).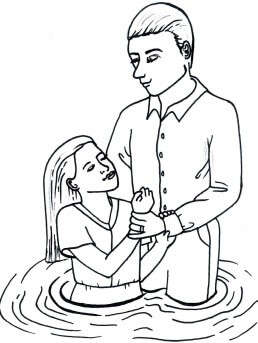 The Bible says, "Whoever believes and is baptised will be saved". This refers to a person who becomes a Christian and is walking in obedience, fulfilling His request in a public declaration before others (Mk 16:16). By this act, besides saying 'No' to Satan, we acknowledge our commitment to God, and our submission to Christ as Lord, indicating our desire to live a new life in Him by the power of the Spirit – "Having been buried with Him through baptism and raised with Him…[we are] reckoning ourselves dead to sin, but alive in Christ".
Christ's commission directed all believers to "Go and make disciples of all nations, baptising them in the name of the Father and of the Son and of the Holy Spirit…" (Mt 28:19). Any godly Christian has the authority to baptize another who professes belief in Christ and understands the significance of this important step in their Christian walk. Water baptism is a 'once only event' in the life of the believer. If a person falls away and comes back to God, they need to repent, not to be baptized again.
The Bible does not mention infant baptism or
christening
as, obviously, the infant can't acknowledge their acceptance of Christ as Saviour, nor make a conscious decision to follow Him. Although christening expresses the parent's desire there must come a time of personal accountability and response from the person themselves to follow Christ, so the Biblical approach is for the parents [or their representative] to speak a prayer of blessing,
dedicating the infant to God, trusting that in the future they will become a Christian believer.
Baptism for the dead is a non-biblical practice whereby a living person is baptized in lieu of a deceased person so that the dead person can be saved. This practice is based solely on the misinterpretation of a verse (1 Cor 15:29). The Bible is clear, baptism has never been a requirement for salvation, and the choice to follow Christ is a personal decision that must be made while still alive (Rom 3:28, 4:3; 2 Cor 6:2; Eph 2:8; Heb 9:27).
In the early church there was no such thing as an unbaptised believer as baptism took place immediately after salvation (Act 2:37-42, 8:12,36-38, 9:18, 10:47,48…). Today in many cultures when people become believers they are tolerated by family and friends who are following a different religion, yet may experience more serious repercussions following water baptism such as intense persecution and even loss of life. Pray for such people who are 'counted worthy' (Act 5:41). 
See also: christen, death (to self), ordinance, salvation, sanctify/sanctification.