Miracles
<<wonders, signs, mighty acts>>
These are exceptional or extraordinary events, not capable of explanation by natural causes but requiring supernatural power to bring them into reality.
Salvation is the greatest miracle of all
The greatest miracle of all is we sinners who are doomed to hell can be transformed into adopted children of God, through the blood of Jesus, and be headed for heaven.
The purpose of Jesus working miracles was to increase the people's understanding and validate His being sent from God. Although they were amazed at the power of Jesus, many were still skeptical of who He was and did not wholeheartedly follow Him (Mt 12:38,39; Jn 2:11; Act 2:22).
"The blind receive their sight...the good news is preached".  There was a close link between the works and the words of Jesus. Miracles were not performed just to impress the people or draw attention to Himself but as a platform to present the words of God (Mt 11:5; Mk 8:11,12).  Jesus had a close dependency on the Father – the divine source of the miraculous power (Jn 5:19).
Be aware Satan can work deceptive magic or counterfeit miracles besides God's genuine mighty acts (eg. Ex 7:11,22, 8:7; 2 Thes 2:9; Rev 13:13,14, 19:20).  We should question the power behind all supernatural occurrences, asking is this consistent with God's Word and purpose, is He the one who receives the glory? Even genuine Godly miracles will not convince everyone of the reality of God if their stubborn mind is fully made up (Lk 16:30,31; Act 14:3,4).
We are to ask (yet not demand) God to miraculously intervene in situations; Jesus declared various signs would accompany His followers (Mt 16:1; Mk 16:17,18; Act 4:29,30; 1 Cor 1:22, 12:28). God confirmed or backed up the preaching of the word with signs (Mk 16:20; Act 6:8, 19:11,12; Gal 3:5; Heb 2:4). While one of the gifts of the Spirit is the working of miracles, if our faith is dependent on signs and miracles, it is not a mature faith (1 Cor 12:10,28,29). We are to follow wholeheartedly, not for what He can do but in love and obedience. Seek truth not the wonder of miracles (Mt 24:24).
God often uses our faith and obedience as the basis for working on our behalf, for "According to your faith be it unto you" (Mt 9:29). Jesus miraculous power was restricted by the peoples lack of faith (Mk 6:5,6). Do we expect, believe and pray for His intervention or do we shut Him out the situations that are beyond human power to resolve?
He is such a creative God that He seldom operates the same way twice.  One time a miracle might happen, the next our faith may be severely tried in spite of our belief. If no miracle happens, those watching on observe how we live with the issue and if we still love God regardless (Job 13:15).
Don't expect God to move sovereignly unless you have done all you can (with His help) to meet the need. 
Miracles are indicators of God's power.  Don't be content just with the miracle but connect with God, the miracle maker. He won't share His glory with anyone or anything else. Miracles are not about us,
Miracles point to Him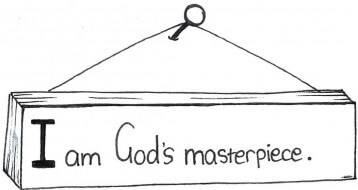 although we may be the object; they are all about God and what He does for us. When the attention is diverted from God Himself to the miracle this can become an idol. The focus should be on God and His Word rather than any manifestation of His power. The Bible is completely accurate, yet not exhaustive, about the miraculous power of God intervening on man's behalf (Jn 21:25).
Not all miracles are spectacular or so obvious that they can be seen with the natural eye. In fact we can be unaware of many that occur in our own lives. God's power and loving intervention working on our behalf in ways we can't comprehend is also miraculous, especially the transformation of our minds (Rom 12:2).
If you don't believe in miracles, perhaps you have forgotten you are one! 
See also: magic, signs, sovereignty of God, super-natural.